Triple H40
Horizontal Machining Center
Triple H40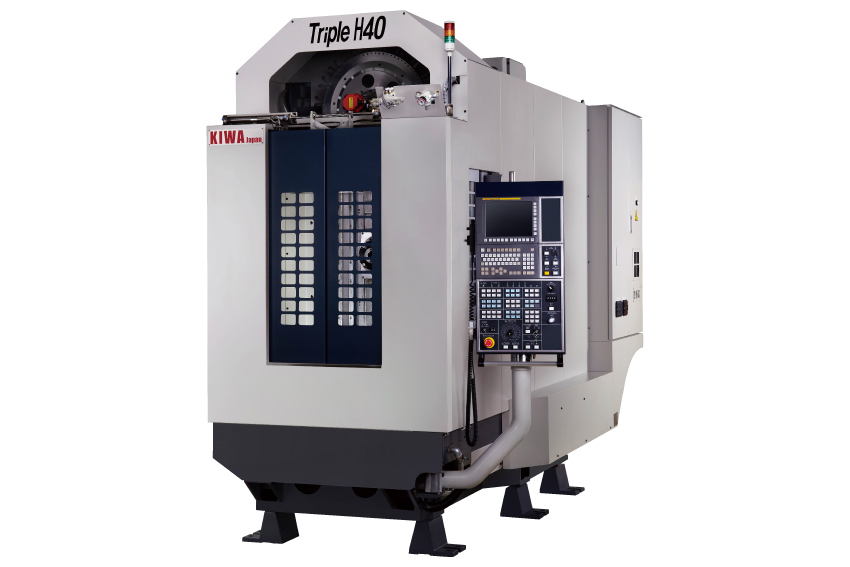 Column Traverse Type Horizontal Machining Center
Column traverse structure assures high rigidity. Easily cuts ferrous materials!
Adaptable to a variety of applications due to the fixed table arrangement; it will solve the customer's various requirements.
Trouble-free design with complete isolation of machining area from mechanism.
Space saving (just 1,400 mm [55.1 inch] wide); most suitable for machining lines.
Type of tool shank
BT40 (OP. CAT40)
Spindle speed (min-1)
8,000 (OP. 12,000)
Number of pallets
Single
Pallet size

(mm [inch])

820 x 450 [32.3 x 17.7]
Max. work piece height

(mm [inch])

790 [31.1]
X, Y, Z axes

(mm [inch])

510 x 510 x 400 [20.1 x 20.1 x 15.7](OP. X-axis 700 [27.6])
Rapid feed (X/Y/Z)

(mm/min. [ipm])

60,000 [2,362]
Number of tools
20 (OP. 40/60/80)
NC
FANUC 0i-M
Floor space

(mm [inch])


* Including coolant tank
* Excluding chip conveyor
Single:1,637 x 3,855 [64.1 x 151.8]
*Inch expression is approximate.
[OP.] ... Option
Option
Tilt_Rotary Table
H40_Tilt_Rotary_Table

Quick Work Changer
H40_QWC_201808E